As a parent you strive to get your kiddos to eat healthy, but it doesn't all ways work the way you want it...I recently had the chance to view a copy of the
Copy-Kids
DVD with my 2 1/2yr old son, Chris. It was not really what I expected, but everything that the you'd expect based on the title....I'm not sure what I thought it was going to be, but he really enjoyed it. Basically, there are short clips of various little kids eating different fruits and veggies.
ABOUT:
COPY-KIDS MEDIA, an independent media company, presents its debut DVD. Copy-Kids Eat Fruits and Vegetables is the first DVD in a series designed to encourage healthy habits in young children. This series is for children aged six months to 5 years.
The genesis for the project came when Cai Dixon noticed her young daughter was more willing to try new fruits and vegetables when she saw another child eating them. Bella liked to copy. Dixon wondered if the experience had to be live, or if a video of children eating fruits and vegetables would also work? "It did, and not just with Bella," recalls Dixon. And so a concept was born: Find children who LOVE to eat fruits and veggies, film them eating them – and make the video available to parents. It's that simple. Says Dixon, "I never would have expected my child to eat raw broccoli – but she demanded it as soon as she saw another child eating it on TV. Now it is one of her favorite vegetables."
THOUGHTS:
The DVD features 12 — 7 minute chapters, one for each of twelve fruits & veggies: Apples – Avocado – Banana – Bell Pepper – Blueberries – Broccoli – Carrots – Cucumber – Orange – Raspberries – Strawberries – Tomato. I loved that the video started with the veggies, it's hard enough to get veggies in my kids..especially following a sweet fruit! I let my son pick what we watched and watched each video in its entirety. He picked peppers first...surprised the heck out of me! Not 2 minutes in he was asking for peppers...WHAT?!
The kids in the segments are fun to watch and are really seem to enjoy what they are eating. Chris giggled along and asked for every veggie he saw them eating...
Copy-Kids launched in January 2012 and is meant for children ages 6 months to 5 years old. It runs for approximately 115 minutes. Children learn from watching other children do something (
know this from Chris picking up EVERYTHING his brothers do
), and this video has captured the essence of that by showing our kids how enjoyable a variety of healthy foods can be. I also liked that it showed that there was a variety of ways in how each veggie/fruit was eaten.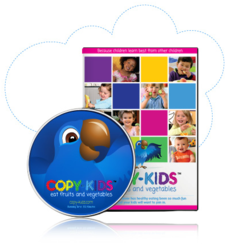 One Lucky winner will receive The
Copy-Kids DVD
.
This giveaway is open to residents in
US
; 18+. Winner will have 48 hours to confirm before a forfeit is assumed. Giveaway will runs June 16, 2012 @ 12:01AM - June 30
, 2012 @ 11:59PM
(EST).
Disclosure: I received a product(s) for review purposes only, however I only recommend products or services I use personally and believe will be good for my readers. Copy-Kids has not influenced the editorial nature of this post, and No other compensation was received. Please see our disclosure policy for more information.

a Rafflecopter giveaway